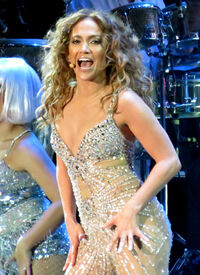 Jennifer Lynn Muñiz (née Lopez; born July 24, 1969) is an American actress, entertainer, businesswoman, producer and philanthropist. She became interested in pursuing a career in the entertainment industry following a minor role in the 1986 film My Little Girl, to the dismay of her Puerto Rican parents, who believed that it was an unrealistic career route for a Hispanic. Lopez gained her first regular high-profile job as a Fly Girl dancer on In Living Color in 1991, where she remained a regular until she decided to pursue an acting career in 1993. She received her first leading role in the Selena biopic of the same name in 1997. Lopez became the first Latina actress to earn over $1 million for a role the following year, with the film Out of Sight. She ventured into the music industry in 1999 with her debut studio album, On the 6, joining a select few in successfully converting from a film to a music career.
She is a producer for the show South Beach Tow.
Ad blocker interference detected!
Wikia is a free-to-use site that makes money from advertising. We have a modified experience for viewers using ad blockers

Wikia is not accessible if you've made further modifications. Remove the custom ad blocker rule(s) and the page will load as expected.